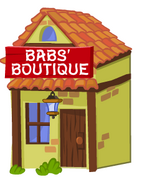 Babs' Boutique is a store for Members only, as it is located at The Port. In Babs' Boutique, Members can buy collectibles for their Monster's room.
Description
Babs was the first merchant to open a shop at The Port. It's here that you can buy collectibles for your monster's room, including WallScrawls and Beanie Blobs.
Items sold:
Gallery
In-Game
Offers
Ad blocker interference detected!
Wikia is a free-to-use site that makes money from advertising. We have a modified experience for viewers using ad blockers

Wikia is not accessible if you've made further modifications. Remove the custom ad blocker rule(s) and the page will load as expected.