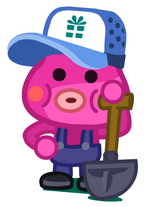 Bert is a Gift Island Roarker who's job is sorting and shovelling gifts. He's usually spotted staring out at the sea. Otherwise he tends to bury himself under some gifts because like Casper, he's very shy and likes to get "away" using this method.
Biography
Character Encyclopedia
Main article: Character Encyclopedia
Main
Bert works hard on Gift Island, checking off lists of presents, sorting them, and shoveling the gifts into piles for delivery. Not much else is known about this shy little critter as he tends to avoid other monsters. Bashful Bert rarely chats with his co-workers – he likes to stay completely focused on the job. 
Monstrously shy
When you're as shy as Bert, Gift Island is a great place to work. There are always mountains of parcels to hide behind when everything gets too much!
Scaredy-critter
Bert is terrified of the stories his co-workers tell of a giant monster who lurks in the murky waters around Gift Island and feasts on Jelly Fuzzes. With his shovel shaking in his paws and his eyes scanning the horizon, Bert's fear of this beast causes him to ooze bucket-loads of sweat. Poor Bert!
Data File
Location: Gift Island
Job: Sorting and shovelling gifts
Often spotted: Staring out at sea
Notes

Bert always wears his Gift Island Roarker's hat.

Shovel for shifting parcels into piles.
Moshipedia
Bert is the shyest worker at Gift Island and just hates to be disturbed. He always keeps one eye on the water and believes the stories about giant monster-munching jelly fuzzes – maybe that's why he's sweating so much.
Gallery
Ad blocker interference detected!
Wikia is a free-to-use site that makes money from advertising. We have a modified experience for viewers using ad blockers

Wikia is not accessible if you've made further modifications. Remove the custom ad blocker rule(s) and the page will load as expected.