Bleurgh Beach is a location in Moshi Monsters. As its name states, it is a beach and was first featured in Mission 2: Voyage Under Potion Ocean.
Then, on the 13th February 2012, it was made available for all users to visit, earmarking it as a non-member location. It is featured to the south of the Map. Additionally, there is a sandcastle game called Quick! Sand!, in which you can create your own custom sandcastles whilst simultaneously at the clock.
There is a shop on the beach called Baz Barnacle's, a shop owned by a character sharing its namesake, Baz Barnacle, who sells loot that he supposedly borrows from his cousin, Captain Buck E. Barnacle.Baz Barnacle#Who is Baz?
On Thursday 9th May 2013, three additional shops were released, namely Boot-eek!, McDolphins and Kate's Deck N' Sails, all of which sell pirate-related items.
Description
The coral reef of the Bleurgh Lagoon is the natural habitat of the energetic Acrobatic SeaStars.
Shops
Kate's Deck N' Sails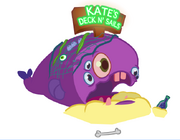 The shop of the three ghost pirate stores that sells pirate-themed items, such as cannons, pirate plushes, etc.
McDolphins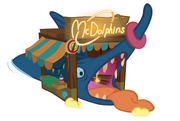 Its namesake parodying McDonalds, it unsurprisingly sells food. Hence, it sells things like caviar (Cavi-arrr!), sandwiches (Club SANDwich), sundaes (Blubbergum Sundae), etc.
Boot-eek!
Like its name suggests, it is a boutique, thus selling clothing items, again in the form of stereotypical pirates; as such, it sells beards, hats, hooks, earrings, etc.
Baz Barnacle's
Owned by Baz Barnacle, cousin of Captain Buck E. Barnacle, who sells the loot he supposedly borrowed therefrom. It sells old otherwise unobtainable items from various Cap'n' Buck expeditions, albeit not all of such.
Minigames
Jaunty Jack's Shouty Shack
Quick! Sand!
Gallery
Ad blocker interference detected!
Wikia is a free-to-use site that makes money from advertising. We have a modified experience for viewers using ad blockers

Wikia is not accessible if you've made further modifications. Remove the custom ad blocker rule(s) and the page will load as expected.