Bobbi SingSong the Jollywood Singaling is common Moshling in the RoxStars set within the Moshi Monsters franchise. Bobbi is a Bollywood dancer and musician who's a hit in their home town, Jollywood.
Bobbi's debut was in their song "Welcome to Jollywood". Said song is what caused them to be a hit in their town. According to the Movie, Bobbi's talent and recognition does not extend past Jollywood, as both Katusma nor Poppet know who they are.
Combination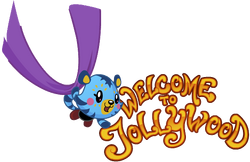 Biography
If you've never been to Jollywood (it is jolly good) chances are you've no idea how famous Bobbi SingSong really is. A legend in his distant homeland this Moshling gooperstar's smash it 'Welcome to Jollywood' has even been adopted as Jollywood's national anthem. If only he could remember his mantra! Despite his fame, Bobbi drives everywhere in his own luxury rickshaw - and I should know because he recently took me for a spin. It was great fun- until he started to show me that 'judder sideways' move of his. We nearly ended up in a pothole. Goodness gracious me!
Mini Bio
A legend in his distant homeland, this Moshling's smash hit song 'Welcome To Jollywood' has been adopted as Jollywood's national anthem. When he's not trying to remember his mantra, Bobbi enjoys dodging potholes in his fancy rickshaw. Jolly good!
The Official Collectable Figures Guide
With his smash hit 'Welcome to Jollywood' which, incidentally, is jolly good, Bobbi SingSong has found fame. With Jollywood having adopted his number one as their national anthem, he has become a living legend in his homeland. When he's not meditating, he mostly whoops it up with his sitar. Just don't offer him a glass of Wobble-ade or suggest any dilly-dallying!
Habitat

Jollywood of course, but Bobbi should be coming to a town very near you!
Traits
Personality
Jolly, doolally, hyperenergetic.
Likes
Meditating and playing his sitar.
Dislikes
Wobble-ade and dilly-dallying.
Trivia
When you click on him, his music is cut from "Welcome to Jollywood".
The Super Moshi Mission, 'Welcome to Jollywood!', where you are rewarded with Bobbi's, shares the name of his hit single.
In the contents section of The Ultimate Moshlings Collector's Guide Bobbi's name is spelt with a 'Y' not an 'I'.

This same error occurs in Series 3 Micro Moshi.

Bobbi's song, 'Welcome to Jollywood' appears on the Moshi Monsters album, Music Rox.
Bobbi is voiced by Rajesh David in Moshi Monsters: The Movie.
Bobbi owns a sitar, which is a musical instrument. It is shaped like an apple and is green. The sitar appeared on the Gooperstars World Tour saga during September/October 2013.
Gallery
In-Game
Figures
Moshi Monsters: The Movie
Other
Ad blocker interference detected!
Wikia is a free-to-use site that makes money from advertising. We have a modified experience for viewers using ad blockers

Wikia is not accessible if you've made further modifications. Remove the custom ad blocker rule(s) and the page will load as expected.