The Carton of Sour Milk is an edible item that is sold at the Gross-ery Store in Moshi Monsters.
The beverage was featured in a Daily Growl post as one of the candidates for 'What's The BEST Moshi Drink?'. The post also details how the item contains pulp.
Description
Nutritious, healthy milk, left in the sun for a few days.
Trivia
In Moshi Monsters Egg Hunt the food is simply "Fresh Milk". The sourness stains and - oddly enough - logo are removed from the item in design.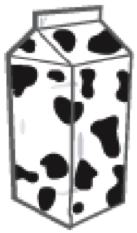 Ad blocker interference detected!
Wikia is a free-to-use site that makes money from advertising. We have a modified experience for viewers using ad blockers

Wikia is not accessible if you've made further modifications. Remove the custom ad blocker rule(s) and the page will load as expected.