Monsters
Talk

6
881pages on
this wiki
Category page
Welcome to the land of crazy, yet cool Monsters! There is Katsuma, (orange and red stripes) There is Luvli,(coral body and green antennae), Diavlo, (red face and black wings) Furi, (brown fur and peach hands) Zommer (purple spiky hair and blue skin),and Poppet (pink fur with blue boots).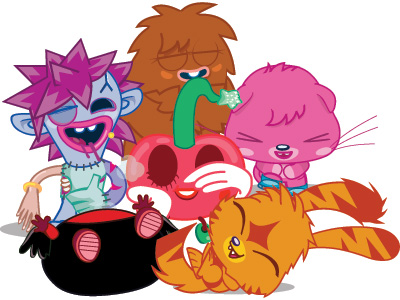 Cuddles (Poppet)
Slick Rummage (Katsuma)
Missy Swish (Luvli)
Scorch Burnett (Diavlo)
Fuzzy Glumford (Furi)
Scare Grillis (Zommer)
If you get an issue of the
Moshi Magazine
you can get fact files on your favourite Monsters.
Katsumas
are called that name because of their sumo tricks and the fact that they're cats.
Poppet
's are a little bit like squirrels,
Diavlos
are devils,
Luvlis
are lovehearts,
Furis
are like big giants except smaller. Well, not a giant at all.
Zommers
are like Zombies.
Pages in category "Monsters"
Media in category "Monsters"