Cupcake Cavern is in the Candy Cane Caves at the bottom of the map. It is where you can play Moshi Cupcakes, a game where you can attract Moshlings to your cupcakes. In Somewhere Clover the Rainbow, you go there to stop the mine Roarkers from gooing the candy. This is where you meet Cutie Pie and help her out in Somewhere Clover the Rainbow.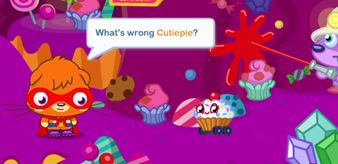 Ad blocker interference detected!
Wikia is a free-to-use site that makes money from advertising. We have a modified experience for viewers using ad blockers

Wikia is not accessible if you've made further modifications. Remove the custom ad blocker rule(s) and the page will load as expected.