Dr. Strangeglove (also formatted as Dr Strangeglove) is Monstro City's ancient enemy, known for his evil deeds towards Moshlings and identified by his trademark singular purple glove, hence his name. He is a rather temperamental member of C.L.O.N.C. and one of its founders, but due to him constantly failing and going by his own agenda, it is not clear if he is still allowed in the organization.
Dr. Strangeglove graduated with Elder Furi as shown on The Daily Growl in July 2011 when a photo of them was posted. In the photograph, Strangeglove had his fingers crossed behind his back, Roary asked players to comment why they were crossed.
Biography
Character Encyclopedia
General
Criminal mastermind, twisted inventor, Glumper extraordinaire and former Doctor of Moshlingology, Dr. Strangeglove developed a twisted hatred for Moshlings after a Musky Husky he was experimenting on mistook his hand for a packet of sausages and mangled it – thus became the strange glove.
Strangeglove is a frustrated entertainer and founding member of C.L.O.N.C. (Criminal League of Naughty Critters).
Moshipedia
Fact file
Relationships
Fiction
Before Dr. Strangeglove
New beginnings as Dr. Strangeglove
Moshi Monsters: The Movie
Appearances
This only notes his main ones. Often times he appears as a decorative character in merchandise, due to the general association of him with Glumps and abhorring Moshlings.
Design
Dr. Strangeglove's design is like that of a classic villain's, with a curly moustache that he frequently pulls, a top hat, a walking stick and generally a use of dark colours. The difference, however, is that he is not wearing a costume, he is his costume. Often his eyes (which are a dark purple) are shown from under the top of his hat.
His mannerisms and abilities assume him to be some type of phantom.
Aside being able to place various object on his hand, his walking stick also has various functions, shown to be able to shoot darts and can become a portable helicopter. It has the C.L.O.N.C. symbol on it.
Contradictions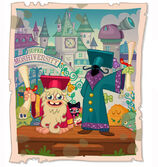 In an interview in the Moshi Monsters Magazine: Issue 48, he reveals his hat to be his head. However, an image from his Moshiversity graduation shows him wearing a different hat, and a possible head is visible underneath the hat. Thus, this image means it is likely impossible for his hat to be his physical head.
Trivia
Dr. Strangeglove's first glove attachment was an egg whisk and this is because he loves scrambled eggs.
Dr. Strangeglove's Moshi Monsters: The Movie voice, performed by Ashley Slater, also voices Zommer.
Dr. Strangeglove's name is a pun of Dr. Strangelove, an American satirical film.
Dr. Strangeglove's favourite colour is gold.
Gallery
In-game
Merchandise
Mash Up Cards
Figures
Misc.
Music Videos
Moshi Monsters: The Movie
Katsuma Unleashed
Real Life
Other