Not to be confused with The Great White Furi.
Elmore the Great is a giant Furi, coloured by the same palette as a default one. He has only appeared in The Daily Growl (the most recent posts being here and here).
Biography
Character Encyclopedia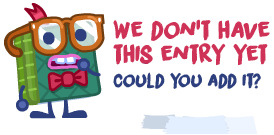 Moshipedia
Main article: Moshipedia
Elmore wasn't always so great. The biggest monster in Monstro City, he once tripped and fell, blocking the Grub Truck from getting to Monstro City, and making some very hungry monsters. Everyone worked together to get Elmore out of a pickle and then celebrated with a new holiday - Growly Grub Day!
Growly Grub Day
Growly Grub Day all started many many Moshi moons ago when Elmore The Great  tripped over a Dingleberry Branch and blocked the road. The Grub Truck couldn't deliver to the Gross-ery that day and all the monsters were starving.
The community had to pull together to hoist Elmore out of the way, but it took all day. When the Grub Truck finally arrived, they declared the day an official Monstro City holiday and feasted until the sun went down. 
Trivia
His shoes are rented out as sailing boats, due to their size.
Ad blocker interference detected!
Wikia is a free-to-use site that makes money from advertising. We have a modified experience for viewers using ad blockers

Wikia is not accessible if you've made further modifications. Remove the custom ad blocker rule(s) and the page will load as expected.