The Frozen Forget-Me-Not is a Special Seed that is obtainable via an exclusive secret code from Issue 24 of the Moshi Monsters Magazine, in Moshi Monsters.
The Frozen Forget-Me-Not is the seed that is needed to attract the Moshling Leo, the Abominable Snowling. 
It's design seems to be based on a sunflower, but with the structure of snowflakes.
To obtain this seed it was required to buy the Moshi Magazine Issue #24. Eventually after a long period of unobtainablilty codes were issued via Moshling Plush Toys of Leo but are currently glitched and issue 1 Rox instead of the seed, thus continuing Leo's unobtainability.
Gallery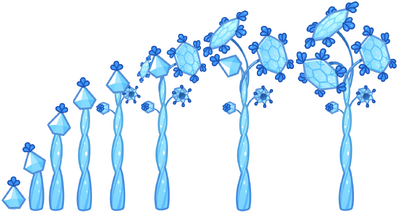 Moshi Monsters Seeds

Normal Seeds

Standard Seeds

Member Seeds

Merchandise
Seeds
Event Seeds
Prize Seeds

Secret Codes

Exclusive Seeds

Card Seeds

Code Breakers

Moshling Madness

Carte Blanche
Plush Seeds
Unreleased
Seeds
Ad blocker interference detected!
Wikia is a free-to-use site that makes money from advertising. We have a modified experience for viewers using ad blockers

Wikia is not accessible if you've made further modifications. Remove the custom ad blocker rule(s) and the page will load as expected.