Halloween Island is a Halloween themed island that has been visited by Cap'n Buck.
The island looks like a pumpkin and is inhabited by creatures Cap'n Buck refers to as the Skeleton Army. They hold Limbo challenges, similarly to the Woolly Blue Hoodoos.
Message In A Bottle
Tyra and I were over at The Port yesterday taking a late night dip (she's convinced the moonlight/sea breeze combo is good for her complexion) and I found another message in a bottle. I sure find these a lot. It's almost as if they're destined for me to find 'em!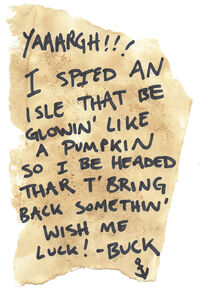 Whoah! Sounds like Cap'n Buck is going to bring back some Halloween stuff! That's gonna SURRRIOUSLY rule. I luuuurve Halloween. I love Trick or Treating, eating candy 'til my tummy hurts, and COSTUMES!
Last year I went as the London Eye. I have no idea what I'll be this year. I better start planning! What do YOU think I should dress up as?
Cap'n Buck Is HERE!
Once again, I was the VERY FIRST to see Cap'n Buck's ship had arrived at The Port. It's almost as if Ol' Buck and I are psychically connected. I always get his notes, and I always see him first! How could it be? Lucky me!
Buck was nice enough to talk to me for a bit about his newest loot, the spooky booty from Halloween Island:
RS: Hello Cap'n Buck! What can you tell me about Halloween Island?
CB: It be a terrifyin' place. Sent shivers up me spine.
RS: In the note you said the island looked like a glowing pumpkin. What was inside?
CB: Once I be inside, 't be like an orange sticky cave an' 't be full o' candy an' pumpkins wi' faces!
RS: That doesn't sound too scary?
CB: Oh, that wasn`t th' scary part. Th' scary part be th' skeleton army.
RS: What did they do??
CB: They made me play lava limbo. They didna know I be double-jointed tho, an' me prize be all this booty.
RS: OMG! So what'd you bring back?
CB: I canna tell ye, but some thin's be on sale. Come onto me ship an' find ou' fer yersef!
RS: Ok! I'm SO there. Maybe that means there's cheap CANDY!! Thanks Cap'n Buck!
Hurry over to The Port to be one of the firsts to have Halloween flair for your monster's lair.
Wares
Ad blocker interference detected!
Wikia is a free-to-use site that makes money from advertising. We have a modified experience for viewers using ad blockers

Wikia is not accessible if you've made further modifications. Remove the custom ad blocker rule(s) and the page will load as expected.