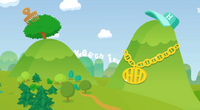 Hipsta Hills is where Flashy Foxes (Blingo's species) live. Sometimes Blaring Boomboxes also hang out here.
On one of the hills, there is a green cap (like Gingersnap's) with a H on. There is also a golden, shiny neckalce with two H's on it.
On the other hill, there is lots of trees beneath it and one on top of it with a brown haircomb sticking out, representing an afro.
In the background, there are several hills, with letters on the top, spelling the word 'Ker-ching'. This could be Ker-Ching Canyon.
Ad blocker interference detected!
Wikia is a free-to-use site that makes money from advertising. We have a modified experience for viewers using ad blockers

Wikia is not accessible if you've made further modifications. Remove the custom ad blocker rule(s) and the page will load as expected.