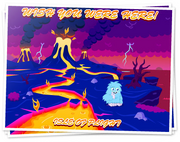 The Isle of Plight (parody of Isle of Wight) is a volcano-laden area in Moshi Monsters. Its location is unknown. The isle was first shown to the public on May 22, 2009 along with Loch Mess as part of a contest on The Daily Growl in which Roary Scrawl asks the community for a location to holiday to. The photograph of the location is only included as decoration above all else, and is ergo not described or mentioned. This contest deadlined on June 2 of 2009, with the results being disclosed the day later on the 3rd, the winner being Maxie89 with Syd's Knee.
Ad blocker interference detected!
Wikia is a free-to-use site that makes money from advertising. We have a modified experience for viewers using ad blockers

Wikia is not accessible if you've made further modifications. Remove the custom ad blocker rule(s) and the page will load as expected.