The
Marketplace
is a collection of shops that can be accessed on
Sludge Street
where users can buy clothes for their
Monsters
.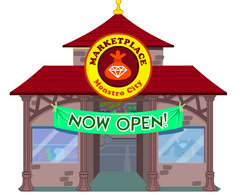 Inside the Market Place, there are six shops in total, catering towards the main six Monsters. Each shop has a different theme fitting that Monster.
Every piece of clothing the player buys is sent to the player's Dress Up Room, where the player can dress up their Monsters. Unlike items, clothes can't be sold or get rid off, for these type of items do not appear in your inventory. Therefore you cannot drag them into the box at the Dodgy Dealz. 
Ad blocker interference detected!
Wikia is a free-to-use site that makes money from advertising. We have a modified experience for viewers using ad blockers

Wikia is not accessible if you've made further modifications. Remove the custom ad blocker rule(s) and the page will load as expected.