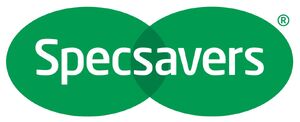 Specsavers Optical Group Ltd
is a global retail chain, which offers optician services, along with eyeglasses, contact lenses and hearing aids.
They partnered with Mind Candy in order to sell Moshi Monsters themed glasses.
There are currently eight designs;
A mixture of brown and grey pair, featuring a default-coloured Diavlo in a circle with an orange background.
Pink frame with Luvli in purple.
Baby blue and includes the "M" extracted from the official Moshi Monsters logo, as well as Poppet and three bows in light pink.
Dark blue with I.G.G.Y. and Katsuma on the arms of the pair.
Dark blue with Katsuma on the arms of the pair.
Black with Ecto, I.G.G.Y, Jeepers, White Fang and Burnie on the arms of the pairs.
Gallery