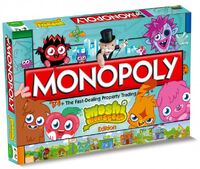 Moshi Monsters Monoply
is a Monopoly game, styled to match
Moshi Monsters
. It is normally sold for around £30, but depending on the store, the price may vary.
Contains
1x GameBoard
60x Cards
32x Houses
12x Hotels
2x Dice
1x Speed Die
210x Custom Money
1x Vac Tray
1x Cloth Bag
1x Rules Book
Description
Explore the exciting world of Moshi Monsters in a new way. Watch your favourite shops and locations transform into property squares with Moshi Monsters Monopoly. Take a trip to Dodgy Dealz and the Gross-ery Store but don't forget to stop by and say "Hi!" to Mizz Snoots in Horrods. Collect your favourite shops and watch your property building empire grow with Moshi Monsters Monopoly.
Ad blocker interference detected!
Wikia is a free-to-use site that makes money from advertising. We have a modified experience for viewers using ad blockers

Wikia is not accessible if you've made further modifications. Remove the custom ad blocker rule(s) and the page will load as expected.