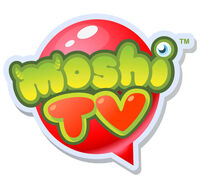 Moshi TV Show is a series of nine episodes that were broadcast on Moshi Monsters' official YouTube channel as well as at the Moshi TV Studios.
The episodes were created by the Moshi Monsters team, with 'Simon' taking the lead role, as the presenter. The show included various segments including 'My Show' and 'The Code Generator'. 
Episodes
Episode 1: November 4th, 2012 (Sunday)
Episode 2: November 10th, 2012 (Saturday)
Episode 3: November 17th, 2012 (Saturday)
Episode 4: November 24th, 2012 (Saturday)
Episode 5: December 1st, 2012 (Saturday)
Episode 6: December 7th, 2012 (Friday)
Episode 7: December 14th, 2012 (Friday)
Episode 8: December 21st, 2012 (Friday)
Episode 9: December 28th, 2012 (Friday)
Segments
Your Letters
In the 'Your Letters' segment, Simon reads letters, fan art, and questions sent by Moshi Monsters' players and fans where he answeres the questions or comments on the letters and fan art.
The Art Show
In the 'Art Show' segment, Will gives a step-by-step guide on how viewers can make a specific art or craft.
My Show
In the 'My Show' segment, Roary Scrawl shows viewers some videos that he has been sent by Moshi Monsters' fans. 
Yes/No Game
In the 'Yes/No Game' segment, Simon challenges a preselected child to answer questions where they aren't allowed to say Yes or No. If they do say Yes or No, they are glooped, however they win a special prize such as the Music Rox CD in the first game, and the Moshlings Theme Park DS Game in the second. 
Code Generator
In the 'Code Generator' segment, Simon uses a gumball machine to release a special gumball which is equal to a special amount of rox that will give an exclusive secret code, for rox.
Blue Gumballs: 100 Rox
Yellow Gumballs: 200 Rox
Red Gumballs: 0 Rox
Purple Gumballs: 300 Rox
Green Gumballs: 500 Rox
Orange Gumballs: 10,000 Rox
Gold Gumballs (Twistmas only): Twistmas Banner
Code Generator Codes
Episode 1: SPACETRIFLE (300 Rox)
Episode 2: RADISH (200 Rox)
Episode 3: GOBLIN (500 Rox)
Episode 4: MOOSE (300 Rox)
Episode 5: FAIRYCAKE (200 Rox)
Episode 6: GLOOP (500 Rox)
Episode 7: WINCEPIE (100 Rox)
Episode 8: TWISTMASTIME (Twistmas Banner)
Episode 9: No Code
Characters
Simon
Simon's Double Act
Will
Roary Scrawl
The Director
Moshi Fans
Megan
Chrissa
Cleaner
Dr. Strangeglove's Hand
Trivia
On two occasions the Gumball Machine has produced an orange gumball - to get 10,000 rox, and Simon has claimed it is either yellow or red, getting different prizes.
Gallery
Ad blocker interference detected!
Wikia is a free-to-use site that makes money from advertising. We have a modified experience for viewers using ad blockers

Wikia is not accessible if you've made further modifications. Remove the custom ad blocker rule(s) and the page will load as expected.