The Moshi Twistmas Poster is a poster that is obtainable via a secret code available with the The Night Before Twistmas book, in Moshi Monsters
Description
Decorate your room with the official poster for the first Moshi Music single! The goo-pendously festive...Moshi Twistmas song!
Trivia
The discription and item assets are actually not associated with this item. In the past the poster displayed a different image, the Twistmas Album cover, and was sold in both the Bizarre Bazaar as Babs' Boutique. It is unclear why this change was made.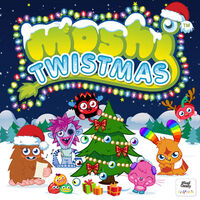 Ad blocker interference detected!
Wikia is a free-to-use site that makes money from advertising. We have a modified experience for viewers using ad blockers

Wikia is not accessible if you've made further modifications. Remove the custom ad blocker rule(s) and the page will load as expected.