Article quality

This article needs cleanup.

Reason: {{{text}}}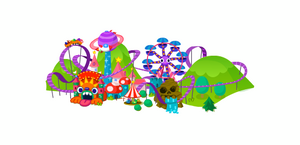 The
Moshi Fun Park
is a place in
Monstro City
 where players play games made by gaming organizations.
It won't earn any Rox from playing the games but it increases the player's Monster's happiness depending on how long they play the games. This was mentioned in a Daily Growl article (here).
Available Games
Mosh Fling (Flumpy's game)
Star Ponies
Oddie's Donut Dash
Bobble Bots Bustle
Home Sheep Home
Nyan Cat Fly
Avalanche
Jet Velocity
Chickaboom
Snow Drift
Flash Cat
Ice Breaker
Feed Me
Skywire 2
Kung Fu Hula Challenge
Rubble Trouble
Thin Ice
Cave Chaos
Zoo racer
Jump 'It 2
Phange Wars
Hide Caesar II
Demolition City
Pumpkins
Neon Rider
Wing'n It
Air Traffic Madness
KiwiTiki
Lightning Librarian
Cargo Bridge
R.I.F.T.
It's Rainining Cats and Dogs
Banana Belly
Donut Ninja
Ozee
The Morning Walk
Solipskier
Pet-Grooming Studio
Jump 'it
Hanna in a Choppa
Mining Truck
Little Master Cricket
Poto & Cabenga
Traffic Madness
Babbit and Ball
Blox
Mushroomer
Donut Dance
Bomboozle
Puffball Puzzles 2
Whack A Doof
Time4Cat
Gem Swap
Doof Ball
Cursor Race
Cascade 2
Brain Workout
Breakit 3
Balance
Bloons
Jungle Plunge
Galactic Melody Catcher
Gold Fishing
Star Lines
Fly Rabbit, Fly
Puzzle Soccer
Find the Pair
Bubble Greed
Removed Games
Meeblings
Meeblings 2
PowerPool
Bloons Junior
Hotcorn
Rings
Guesstimation
Robomaro
Kid Bike
Gallery
Ad blocker interference detected!
Wikia is a free-to-use site that makes money from advertising. We have a modified experience for viewers using ad blockers

Wikia is not accessible if you've made further modifications. Remove the custom ad blocker rule(s) and the page will load as expected.