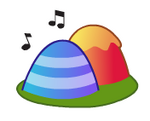 Music Island, introduced when a UFO crashed, is a major addition to the size of the Moshi World. Half of the Super Moshi Missions in Season Two take place in this area.
Locations
Places that can't be visited are in bold, Mission places are underlined.
Shipwreck
Bobbi Singsong's Yoga Retreat
Temple
Spooky Castle
Beach
Airport
Woolly Hoodoo Jungle
Stardust Street (Habitat of Quirky Koalas)
Trivia
Albeit already appearing near the water by The Observatory, on the original version of the Music Island map Otto could additionally be seen in the waters near The Sandy Drain Hotel.
Map
Original
Current
Gallery
Ad blocker interference detected!
Wikia is a free-to-use site that makes money from advertising. We have a modified experience for viewers using ad blockers

Wikia is not accessible if you've made further modifications. Remove the custom ad blocker rule(s) and the page will load as expected.