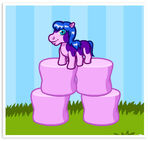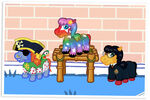 My Little Mutants are a set of collectable statue-like dolls sold at Horrods in Moshi Monsters. They are a parody of My Little Pony, a franchise of colourful pony figurines and resemble the "G3" models, only now with six legs like "Sleipnir"; a creature of Norse mythology.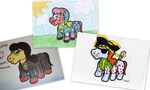 They were part of the Create-a-Mutant contest. Users were given a chance to design their own My Little Mutant by drawing over- and colouring the outlines of the original My Little Mutant.
My Little Mutants Collection
Name
Image
Description
Level
Price
Happiness
My Little Mutant
A speedy little pony if ever there was, those six legs certainly come in handy.
14
91 Rox
72
My Little Rainbow Star Mutant
Who doesn't love rainbows and stars?

Designed by tutu4039.

9
100 Rox
100
My Little Pirate Mutant
Arrrgh! Watch your gold around this little mutant. Designed by laurabi.
10
100 Rox
100
My Little Harry Trotter Mutant
Contrary to popular belief, the Harry Trotter Mutant comes from the Gallop-ogus Islands, NOT from Hogwarts. Designed by mkeiran.
6
100 Rox
100
Ad blocker interference detected!
Wikia is a free-to-use site that makes money from advertising. We have a modified experience for viewers using ad blockers

Wikia is not accessible if you've made further modifications. Remove the custom ad blocker rule(s) and the page will load as expected.