The Nintendo 3DS family is a family of handheld consoles developed and sold by Nintendo from 2011-present. It succeeded the Nintendo DS line and is the current generation of handheld Nintendo consoles. Two Moshi Monsters games were available for the Nintendo 3DS during its lifetime.
Consoles
Nintendo 3DS
Nintendo 3DS XL
Nintendo 2DS
New Nintendo 3DS
New Nintendo 3DS XL
StreetPass
Main article: StreetPass
StreetPass is a feature in Nintendo 3DS systems which involves two people who both have a 3DS system meeting eachother. In this event, data of each system is transferred to the other. This is a key role in Moshi Monsters 3DS games, as they unlock features important to both the 3DS game and the online game, as codes for items can be found via StreetPass.
Games
Moshi Monsters: Moshlings Theme Park
Main article: Moshi Monsters: Moshlings Theme Park (video game)
Moshi Monsters: Moshlings Theme Park is a Moshi Monsters Nintendo DS/3DS game developed by Activision and Mind Candy, that released 26th of October 2012 in the United Kingdom, before releasing in North America and Canada on the 30th of October.
The objective of the game is to rebuild the theme park and to find up to 60 Moshlings found around the park.
Moshi Monsters: Katsuma Unleased
Main article: Katsuma Unleashed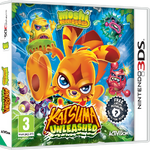 Katsuma Unleashed is a side-scrolling, action-adventure platform game rendered in a beautiful 3D cartoon style and designed to appeal to Moshi fans of all ages across the globe. In a move away from the previous two titles, the game will feature stand-alone hero character Katsuma.
The objective of the game is to fight the online game's many villains and robot versions of Moshlings while saving Katsuma's friends to gain extra powers.
External links
Ad blocker interference detected!
Wikia is a free-to-use site that makes money from advertising. We have a modified experience for viewers using ad blockers

Wikia is not accessible if you've made further modifications. Remove the custom ad blocker rule(s) and the page will load as expected.