The Official Calendars are an annual office supply published by Danilo Promotions, decorated with Moshi Monsters characters mostly in contrast with the month they feature on. Calendars were produced for every year from 2011-2015.
2011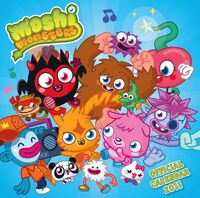 Date of Publication: 1 September 2010
ISBN-10: 1847708110
ISBN-13: 978-1847708113
Product Dimensions: 30.2 x 30 x 0.8 cm
2012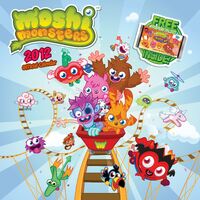 Keep track of all your important dates with the Official Moshi Monsters Calendar. This fun, bright 2012 calendar features all the famous characters from the Moshi Monsters phenomenon with all of the key dates from the world of Monstro City. It even includes an exclusive preview pack of the Moshi Trading Card Series Two that's due out later this year! This is the latest Moshi line based on the phenomenally successful online world of MoshiMonsters.com, one of the fastest growing online games of all time.

Date of Publication: 21 October 2011
ISBN-10: 184770879X
ISBN-13: 978-1847708793
Product Dimensions: 30.5 x 0.5 x 30.5 cm
2013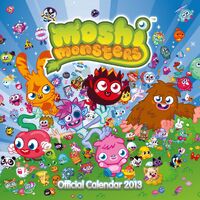 Date of Publication: 1 August 2012
ISBN-10: 178054104X
ISBN-13: 978-1780541044
Product Dimensions: 30 x 30 x 0.6 cm
2014
Date of Publication: 1 September 2013
ISBN-10: 1780543360
ISBN-13: 978-1780543369
Product Dimensions: 30 x 30 x 0.6 cm
2015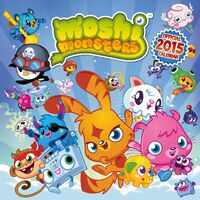 Date of Publication: 1 October 2014
ISBN-10: 1780546017
ISBN-13: 978-1780546018
Product Dimensions: 21 x 15 x 2.2 cm
Ad blocker interference detected!
Wikia is a free-to-use site that makes money from advertising. We have a modified experience for viewers using ad blockers

Wikia is not accessible if you've made further modifications. Remove the custom ad blocker rule(s) and the page will load as expected.