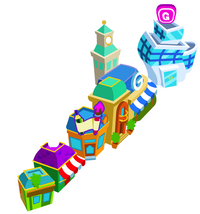 Ooh La Lane
is a location and street in
Moshi Monsters
, located in the bottom left hand corner of
Monstro City
. There are many buildings on the street, the only shop is the house store, as it is the only place
Rox
can be spent.
Ooh La Lane may be the fanciest street but does not feature many activities. Tyra's Spa was originally planned to become Gabby's Cafe. What the function of said cafe would be has not been revealed.
Description
Main article: Moshipedia
This is where you'll find some of the most chic boutiques in Monstro City. Fancy cooling down with a chocolate crunch or jellyfish ice-cream? Then the Ice-Scream Shop is the place for you! And while you're there, why not check out the Googenheim Art Gallery, the Print Workshop, the Moshi Store or take the weight of your paws at Tyra's Spa?
Accessible Buildings
Residents
Trivia
This location is internally referred in the game files as Community Street.
Ad blocker interference detected!
Wikia is a free-to-use site that makes money from advertising. We have a modified experience for viewers using ad blockers

Wikia is not accessible if you've made further modifications. Remove the custom ad blocker rule(s) and the page will load as expected.