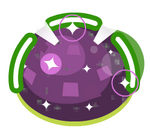 The Par​ty Palace is a location in Moshi Monsters, located to the bottom left hand corner of the map. To enter, a server must be chosen (a list of servers are featured below).
In the Party Palace, four Monsters compete in a dressing up contest. If a Monster is in the contest, a theme will appear and they will have to dress up matching the theme.
All of the other Members of the room can vote for who they think is the best.
The winner appears on a big screen to the right, to the left is another screen stating where the person lives, how old they are, their gender, their username and an 'Add Friend' button.
The contest can also end with no players winning, this happens if all players are voted and get the same score.
Server List
Magic Room
Castle Room
Munchy Room
Lollipop Room
Birdy Room
Custard Room
Rocket Room
Ninja Room
Spooky Room
Beach Room
Arctic Room
Fluffy Room
Balloon Room
Cupcake Room
Puppy Room
Dino Room
Jelly Room 
Apple Room 
Haunted Room
Disco Room
Trivia
The Party Palace was released for beta testing four months prior to release. Users were selected at random; those users had the palace added to their map.
In the beta testing, there were originally eight servers to choose from at the selection screen.
It is the first time in Moshi Monsters where players can say things at their own choice, unlike the streets where Monsters say random phrases pre-set.
Gallery
Emails
Servers
Ad blocker interference detected!
Wikia is a free-to-use site that makes money from advertising. We have a modified experience for viewers using ad blockers

Wikia is not accessible if you've made further modifications. Remove the custom ad blocker rule(s) and the page will load as expected.