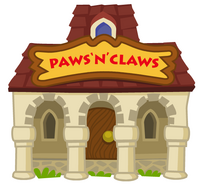 Paws 'N' Claws (also stylised as "Paws 'n' Claws")Gilbert Finnster's biography is a shop located at The Port, owned by Gilbert Finnster. It sells Moshling related products such as Mystery boxes which reveal seed combinations for Moshlings and miniatures of Moshling houses as they appear in the Moshling Zoo.
Prof. Purplex and Gingersnap are seen behind Gilbert Finnster. Prof. Purplex is sleeping and Gingersnap is behind some purple shelves.
Items
Trivia
Gallery
Ad blocker interference detected!
Wikia is a free-to-use site that makes money from advertising. We have a modified experience for viewers using ad blockers

Wikia is not accessible if you've made further modifications. Remove the custom ad blocker rule(s) and the page will load as expected.