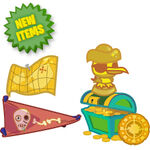 Pirate Paradise is a Pirate themed location that Captain Buck E. Barnacle has visited for the Pirate Takeover event. North of Pirate Paradise lies Futuristic Falls. South lies Monstro City.
The island is divided in area's of which Captain Buck each fetched one item from. Areas
Golden Gull-ch
Paradise Lagoon
Flag falls
Barnacle Bay
Plank Peak
Soprano Sahara
Blockhead Butte
The Golden Swamp
Shipwreck
Sunken Treasure
Pirate Paradise - An Island Full Of Piratey Bling!
May 20th, 2013
Pirate Paradise... An island brimming with treasure troves of piratey bling... A location so secret and dangerous that most pirates can only DREAM of going. As luck would have it, our brave Cap'n Buck and his first mate Lefty have recently visited there. The best part? They're bringing back pirate bling for all of YOU!

The new pirate items (coming this week!) will be from locations on the map of Pirate Paradise above.
PORT HO: Cap'n Buck Arrives From Pirate Paradise!
Ahoy! The Cloudy Cloth Clipper is docked at The Port and it's stocked with piratey bling from Pirate Paradise. Here's what you can expect to find…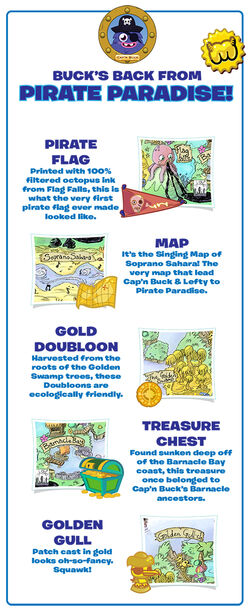 Wares
Trivia
Several of the items where, presumably mistakingly, re-sold with fellow re-sold items from Pizza Paradise, to celebrate the release of the Food Factory.
The Island of the Pirate Paradise is shaped like a skull with two bones crossed together.
Ad blocker interference detected!
Wikia is a free-to-use site that makes money from advertising. We have a modified experience for viewers using ad blockers

Wikia is not accessible if you've made further modifications. Remove the custom ad blocker rule(s) and the page will load as expected.