The Pizza Game is game available at the Food Factory, in which players can create pizzas that can be fed to their Moshlings in order to obtain Moshling Stars and Moshling Star Rewards. 
Instructions
Add the Flour, Salt, Yeast-O!, and a Jug of Water to the bowl.
Stir the dough with the spoon.
Smash the Dough Monsters to knead the Pizza Dough.

Add either red, green or yellow sauce.

Grate the Monsterella Cheese, using the grater.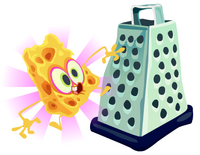 Add the specified pizza toppings.
Wait for the Pizza Contraption to finish.
Feed your Moshlings!
Toppings
There are a total 18 toppings, available in two slides with nine toppings each that can be accessed by pressing the down button. The toppings can be dragged on to the pizza dough.
Ad blocker interference detected!
Wikia is a free-to-use site that makes money from advertising. We have a modified experience for viewers using ad blockers

Wikia is not accessible if you've made further modifications. Remove the custom ad blocker rule(s) and the page will load as expected.