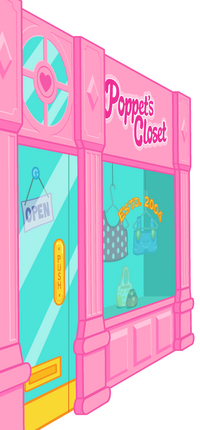 Poppet's Closet is a shop in the Market Place that sells all things girly and cute... just like Poppets! Poppets like to make believe and some of the themes at the store are Witches, Fairies, and Warriors. The shopkeeper is the basic coloured Poppet. The shop is free to everyone, but as all Marketplace shops, have a twinge of Poppet style. Most of the clothes can fit any monster if re-sized.
Appearance
On the outside of the store, there is a something written across the glass: 'ESTD. 2004'. This is probably when the shop opened (in lore). There is also an open sign hanging from the top of the door to the shop. In the inside of the store, Poppet's Closet has pink and cotton striped wallpaper, a pink rack, and a yellow floor. Obviously, this states that Poppet's favourite colour is pink. The room looks very Summer-like and happy. Included are some Fun Flowers, a pink counter and daisies.
Gallery
Ad blocker interference detected!
Wikia is a free-to-use site that makes money from advertising. We have a modified experience for viewers using ad blockers

Wikia is not accessible if you've made further modifications. Remove the custom ad blocker rule(s) and the page will load as expected.