Poppets
Talk

1
1,397pages on
this wiki
Article quality

This article needs cleanup.

Reason: {{{text}}}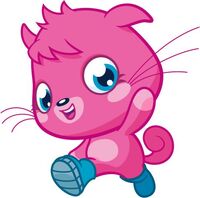 Poppets
are the second most popular species of monster who are mainly adopted by girls and who became really popular in 2013. They are cute, small and shy and are always seen wearing their boots
In most pictures on Moshi Monsters, Poppets are pink with blue eyes and blue boots (this is the default Poppet) but players can choose curtain colours when adopting and members can customize their colours however they want at the Port.
Known Poppets
Trivia
The name Poppet probably comes from the endearment term that people use to describe their loved ones. This would figure as Poppets are cute and most people love looking after them.
Poppet is one of the two monsters to have a Mosh N Chat plush, along with Katsuma.
Poppets are the second most popular monster (mainly adopted by girls).
Poppets favorite food are Mice Crispies.
According to a Moshi Magazine, Poppets are less than 2 inches tall.
Poppet has a song called I Heart Moshlings
Poppet has mission called "the Unusual Suspects"
Gallery
Artwork
Poppet Colours
Forum/ Daily Growl Avatar
Super Poppet
Explorer Poppet
Geeky Poppet
Beach Poppet
Merchandise
Other