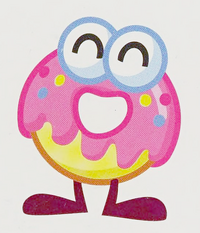 The Read It Yourself series are educational books used to teach reading through storytelling.
Description
Oddie is having a good morning until he meets Sweet Tooth and the Glumps. Can he and his friend Hansel get away and save the day?
For over thirty-five years, the best-selling Read it yourself with Ladybird has helped children learn to read. All stories feature essential key words. Story-specific words are repeated to practise throughout. Designed to be read independently at home or used in a guided reading session at school. All titles include comprehension puzzles, guidance notes and book band information for schools. This Level 4 title is ideal for children who are ready to read longer stories with a wider vocabulary and are keen to start reading independently.
Paperback: 48 pages
Publisher: Ladybird (3 July 2014)
ISBN-10: 0723280932
ISBN-13: 978-0723280934
Product Dimensions: 15.2 x 22.8 cm
Characters
Gallery
Ad blocker interference detected!
Wikia is a free-to-use site that makes money from advertising. We have a modified experience for viewers using ad blockers

Wikia is not accessible if you've made further modifications. Remove the custom ad blocker rule(s) and the page will load as expected.