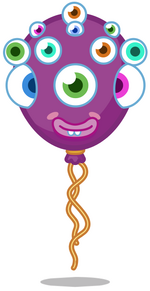 Roary's Birthday is an event in Moshi Monsters which takes place on the 13th of February. The event is to celebrate Roary Scrawl's birthday, as the name obviously suggests. The even commonly celebrated on The Daily Growl with updates in-game to follow. 
In 2012, Roary Scrawl was taken to the opening of Bleurgh Beach by his girlfriend, Tyra Fangs. In 2013, many balloon items were released, including one which resembled Roary's face.
Gallery
Ad blocker interference detected!
Wikia is a free-to-use site that makes money from advertising. We have a modified experience for viewers using ad blockers

Wikia is not accessible if you've made further modifications. Remove the custom ad blocker rule(s) and the page will load as expected.