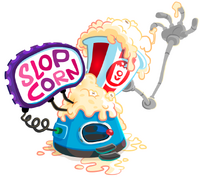 Slopcorn is a contraption and game playable at the Food Factory, in which players can prepare a bucket of Slopcorn to be fed to their Moshlings. This is rewarded with Moshling Stars and thus eventually Moshling Star Rewards. It was released on August 2nd 2014.
Daily Growl
MUNCHY MADNESS: Slopcorn At The Food Factory![1]
BOOM BOOM POP! That's the sound of Slopcorn being popped over at the Food Factory. Head over there right now to feed your hungry Moshlings. Fill up to level up!

How do YOU eat Slopcorn? One kernel at a time, or HUGE handfuls? I like to get as much in my mouth at one time... But that's just me!
Gallery
Ad blocker interference detected!
Wikia is a free-to-use site that makes money from advertising. We have a modified experience for viewers using ad blockers

Wikia is not accessible if you've made further modifications. Remove the custom ad blocker rule(s) and the page will load as expected.