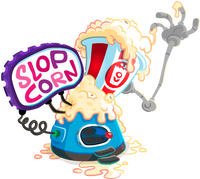 The Slopcorn Machine, released on July 31st 2014, is a contraption and game playable at the Food Factory, in which players are able to make slopcorn to feed their Moshlings. This is rewarded with Moshling Stars and thus eventually Moshling Star Rewards.
Instructions
Catch as much slopcorn as you can before the machine turns angry.
Once the machine is angered make sure to avoid the burnt slopcorn.
The machine will eventually calm down and you can then carry on collecting slopcorn.
The machine may also get angry once again, so make sure to avoid it like before.
After you've spelt out "Slopcorn!", feed your Moshling.
Ad blocker interference detected!
Wikia is a free-to-use site that makes money from advertising. We have a modified experience for viewers using ad blockers

Wikia is not accessible if you've made further modifications. Remove the custom ad blocker rule(s) and the page will load as expected.