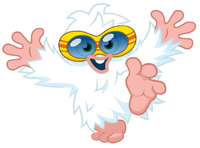 Snowcrash is Mr. Moshi's Furi on Moshi Monsters, named after a book he liked as a teenager.
Snowcrash has appeared in the music video of Moshi Twistmas in which they show to be a careless type of individual, consuming Hansel and shaking the crumbs of their body and running up the camera chanting the wordless parts of the song.
Years later, Snowcrash came into the picture as a Statue of them became an in-game item.
Gallery
Ad blocker interference detected!
Wikia is a free-to-use site that makes money from advertising. We have a modified experience for viewers using ad blockers

Wikia is not accessible if you've made further modifications. Remove the custom ad blocker rule(s) and the page will load as expected.