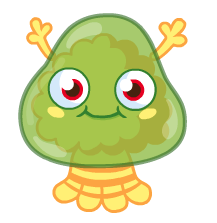 Snozzle Wobbleson Day (commonly referred to as 'Snozzle Saturday') is a Moshi Monsters event, celebrated every March 16th from 2013 onwards.
It was personally created by Mr. Moshi due to issues with Snozzle Wobbleson's series 5 Vivid figure failing to make it to market, and as such he created the holiday to celebrate Snozzle due to him being his favourite character. More information regarding the issue can be read here.
Despite Mr. Moshi claiming this event would happen on a yearly basis, it was never physically celebrated in-game or mentioned again.
After 5 years of inactivity, the event made an in-game debut in Moshi Monsters Egg Hunt. On March 16th 2018, all food items in Snozzle's store will be 50% off.
Mr. Moshi's description of the event
Snozzle is one of my favourite characters and so from now on March 16th will be officially known within the World of Moshi as Snozzle Wobbleson Day. We'll celebrate the mysterious and elusive jelly headed monster with all sorts of weird and wonderful Wobbleson related activities.
Gallery