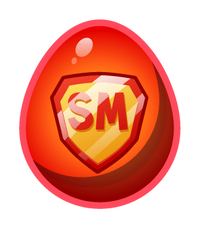 Super Moshlings are a Moshling type that was introduced in version 2.3 of Moshi Monsters Egg Hunt. Super Moshlings are added onto existing sets, bringing the total number of Moshlings in sets to 5.
Super Moshlings are enclosed in 'super-tough' Super Moshing Eggs. Once all four original members of a Moshling set are obtained, a fossilised Super Moshling Egg is added to the Moshling Zoo. With the help of the Bumbletron 9000 Deluxe and one golden spoon, the Super Moshling Egg can be hatched, completing the set once more. They are seemingly Moshling counterparts to Super Moshis; each Moshling wears a cape.
There are a total of 38 current Super Moshlings.
List of Super Moshlings
Ad blocker interference detected!
Wikia is a free-to-use site that makes money from advertising. We have a modified experience for viewers using ad blockers

Wikia is not accessible if you've made further modifications. Remove the custom ad blocker rule(s) and the page will load as expected.