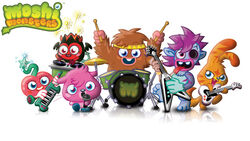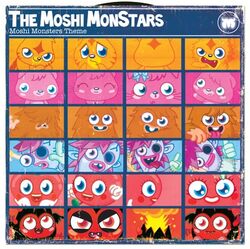 The Moshi MonSTARS are a band formed by all of the main face Monsters- Katsuma, Diavlo, Poppet, Zommer, Furi and Luvli.
Their first song, The Moshi Monsters theme, is on the Music Rox! album - released April 2012.
They hang out wherever there's a stage and are often spotted turning up the volume, very noisily. Simon Growl auditioned them one-by-one, then put them all together to form the Moshi MonSTARS.
Group Members
The MonSTARS are smokin' DJ Diavlo, fur-iendly drummer Furi, clawsome guitarist Katsuma, flutterly amazing Luvli on the keyboard and stitch pickin' guitarist Zommer. Last, but not least, is cute Poppet, who sings her heart out.
Biography
Character Encyclopedia
Main article: Character Encyclopedia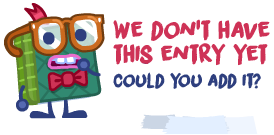 Ladies and gentlemen,
Monsters
and
Moshlings
, introducing the most goopendous pop Monsters in the swooniverse... the Moshi MonSTARS! These Moshi-tabulous Roxstars really know how to rock the house, the stage and the
Underground Disco
! Catch their number one song,
Moshi Monsters Theme
, on the
Music Rox
album.
Likes
Rocking out and partying.
Side notes

The Furi of the group has a headband to keep his hair out of his eyes.
---
Moshipedia
Main article: Moshipedia
The Moshi MonStars are the real stars of the Music Rox album. The six monsters that make up the band auditioned at the Underground Disco in front of Simon Growl, Tyra Fangs and Simon's Wiggy Thingy, as part of HighPants Productions' Monstro City's Got The Ex-Idol Pop Factor competition. The group's biggest hit to date is 'The Moshi Monsters Theme'.
Trivia
The lyric "So meet the monsters in Monstro City where the grass is green and they sing this ditty" is a reference to the song "Paradise City" performed by Guns N' Roses.