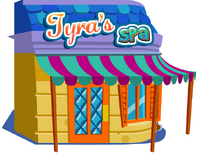 Tyra's Spa is a location on Ooh La Lane owned by Tyra Fangs which replaced Gabby's Café. Clicking on the door loads a game which shares the same name. In the game you choose one of the Monsters to play as. You then give them a makeover which includes: cleaning, tweezing, and blowdrying. It opened on September 27, 2011. You do not earn any Rox in this game.
Trivia
The You're A Superstar! gift cameos in this game via an advertisement on the magazine one of the Monsters read.
Gallery
Steps
1: Tweeze
2: Soap:
3: Mud:
4: Relax:
5: Rinse:
6: Blow Dry:
Ad blocker interference detected!
Wikia is a free-to-use site that makes money from advertising. We have a modified experience for viewers using ad blockers

Wikia is not accessible if you've made further modifications. Remove the custom ad blocker rule(s) and the page will load as expected.