Welcome to my Userpage!
I've been on this wiki for a while now so i am kind of well known. Don't be afraid to talk to me, i wont bite. :0
About Me!
Edit
Hi, I am Yolka Crazy AKA Adam.  I love to meet new friends! I am in 7th grade. I am 14 of age. I play soccer and some of percussion. If you have any questions about me or anything, just ask on my talk or on chat.                 
Newest Moshlings!
Edit
The newest Moshlings are Betty, Jessie, and Scrumpy. 
About my Moshi Monster!
Edit
I have a Moshi Monsters account that is a Moshi Member and has 91 moshlings out of 94. My monster is a Blue and neon Blue Katsuma  . I don't really change his colors that much. Right now I am at a MONstar rating of H, I am a level 19, and I have an ok room rating of 4 stars.  I accept any friend requests, so come add meh!.  My Monsters House!
Moshling I am Trying to get.
Edit
Right now I am trying to get 
No One
. Progress 0/3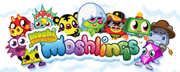 My Top 5 Favorite Moshlings!
Edit
Yolka The Crackiling Egghead
Prickles the Tickly Pickle
Burnie the Fiery Frazzledragon
Tomba the Wisful Snowtot
Pip the Savvy Sapling
My Moshlings
Edit
One of my favorite things about Moshi Monsters is the Moshlings. They are so cute and fun to collect. I have completed 15 sets. Here is a list of all themoshlings I have so far:
Beasties : Humphrey, Jeepers, ShiShi, Burnie (Set Completed)
Birdies : DJ Quack,Prof. Purplex, Peppy, Tiki (Set Completed)
Dinos : Snookums, Pooky, Doris, Gurgle (Set Completed)
Fishies : Stanley, Blurp, Cali, Fumble (Set Completed)
Fluffies : Dipsy, Honey, Flumpy, I.G.G.Y (Set Completed)
Foodies :Hansel, Coolio, Oddie
Kitties : Purdy, Gingersnap, Lady Meowford, Waldo (Set Completed)
Luckies : Furnando, Tingaling, O'Really, Penny (Set Completed)
Mythies : Scarlett O'Haira, Shambles, Long Beard Jessie (Set Completed)
Naughties : Marcel
Ninjas :Chop Chop, Sooki-Yaki, Shelby
Noisies : Boomer, Cherry Bomb, Judder
Ponies : Angel, Priscilla, Mr. Snoodle, Gigi (Set Completed)
Puppies : Fifi, McNulty, White Fang, Scamp (Set Completed)
Secrets : Blingo,Baby Rox, Roxy
Snowies : Tomba, Woolly, Gracie, Leo (Set Completed)
Spookies : Squidge, Kissy, Ecto, Big Bad Bill (Set Completed)
Techies : Wurley, Holga, Gabby, Nipper (Set Completed)
Tunies : HipHop, Oompah, Wallop, Plinky (Set Completed)
Worldies : Rocky, Liberty, Mini Ben, Cleo (Set Completed)
Zoshlings :  Captain Squirk, First Officer Ooze, Dr. C Fingz, Splutnik (Set Completed)
My Goals on this Wiki
Edit
Reach 50 edits
Reach 100 edits
Reach 150 edits
Reach 200 edits
Reach 250 edits
Reach 300 Edits
Reach 350 Edits