If you have a problem with another user of the Wiki, feel free to give me a PM on chat and discuss it with me. Just keep in mind I only have a limited amount of sanity, like any normal person.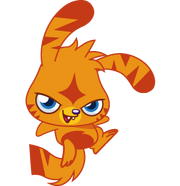 Hi, welcome to the Moshi Monsters Wiki! Thanks for your edit to the Flying Moshlings page.
Not sure where to start?
Want to edit an article?
Talk and more...
Check out the community portal to see what the community is working on, to give feedback or just to say hi.
So, go edit! And please leave a message on my talk page if I can help with anything else! -- Gamemakergm (Talk) 22:21, December 4, 2011
Hey
Ok, sorry. Although I've been a Wiki editor since 2012, I'm still getting used to things :/
I just now learned how to use the Category thing. Thanks for letting me know and I'll change it.
James the Train Lover (Message Me!) 15:06, July 17, 2014 (UTC)
Flaflaflah
Shh, I am acting as if cyber space has limits to make it seem simple all the while being confusing! You are observing poetry in action.

PepPep ▪ Talk ▪ 9,688 Edits  06:55, July 22, 2014 (UTC)
Slugterra Wiki
Hello I am from Slugterra Wikia I know you are inactive at Slugterra wikia I respect that but could make me a admin at Slugterra Wikia only the founder and you who will not reply to any of my messages can make me admin. PleaseMaurice.136 (talk) 16:42, July 24, 2014 (UTC)
Reply: Hey
Thanks --  MickeyMarshmallow • Talk Marshmallowian • Blog Posts in Marshmallowian • 6,330 Marshmallowian Edits! • Followed Pages  
   15:14, July 30, 2014 (UTC)
Bot
Hey Abce, can you come on chat? I need to talk to you about bots.
    • Harry • 2,121 Edits • Talk • Chat Mod •      09:19, July 31, 2014 (UTC)
But, over here in England, it's already past 13:10, and 13:44! I don't know why I can't access the chat, because, it says on my Contributions page, You will be unbanned at 13:44 on August 5th.
But, why am I still banned?
Thanks so much!
UOTM
Please can I be in the UOTM vote for next month?
    Adam - 1,180 Edits - Talk Page

Howdy
Hey Abce, I'm just saying that I won't be on the Wiki from Monday to Friday next week as I will be on holiday. So uh... that's about it.
Thanks,   Sefelic ▪ Summertime ▪ Contact me   20:51, August 10, 2014 (UTC)