If you have a problem with another user of the Wiki, feel free to give me a PM on chat and discuss it with me.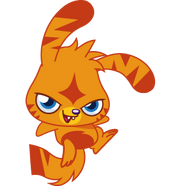 Hi, welcome to the Moshi Monsters Wiki! Thanks for your edit to the Flying Moshlings page.
Not sure where to start?
Want to edit an article?
Talk and more...
Check out the community portal to see what the community is working on, to give feedback or just to say hi.
So, go edit! And please leave a message on my talk page if I can help with anything else! -- Gamemakergm (Talk) 22:21, December 4, 2011
Thank + whining about wikia
Ever since that icon was gone I wondered if I had anything to do with it. I noticed with the badges that Joe added, and also emoticons, that they aren't categorized automatically as some sort of "wiki function". They don't even consider our header image or background image to be currently in use! So everything just ends up in the Unused and Uncategorized Files. I wish wikia was a bit more user-friendly and did such things automatically.
PepPepPep ▪ Sup? ▪ ..reme.. 12:50, November 13, 2015 (UTC)
Hey Abce i am user Quomler 1 .
If you are not to busy check my profile.Quomler 1 (talk) 06:03, November 15, 2015 (UTC)
Lets chat here on pm and settle the fued/ Removing messages from your wall saga.
Lets Chat here on Pm and settle the fued/Removing Messages saga ==