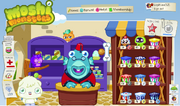 This page has beeeeeeeeeeeennnnnn DuN DUN DUN Dun dudndNFDHFNJFDNFHDUI DELETED!
Save the wiki!
This wiki needs every user it can get! It's on the edge of deletion due to unregistered vandalisers! Tell as many users as you can ASAP!
Hi
Well I'm trying to help the wiki but I can't delete pages, I would be really greatful if you could please give me bureucrat rights to manage the wiki. I'll try to help the wiki as good as possible.
File:Crown Gold.gif Game Talk 769 Edits 03:28, January 5, 2011 (UTC)
Happy for you-Me
Hi!i'd like to say that you've done hundreds of edits and how come?Lol-i'm not asking for an answer,it's a joke but i do ♥ ur edits!

cati886-caitlin ♥x♥o 08:53, February 25, 2011 (UTC)
Knock Knock
04:46, May 10, 2010 Was your last edit :3 Where are you? We need admins.File:Crown Gold.gif Game Talk 769 Edits 23:35, September 29, 2010
Excuse me
But are you planning on being active on this Wiki again? If not, let me know and I will demote you.
If this isn't answered in a week, you will be demoted for inactivity.