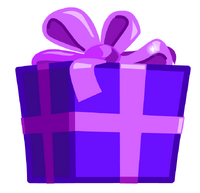 Video Gifts
 are a type of gift in
Moshi Monsters
, the other being
Mystery Gifts
. They are short and fun animations which a message can be added to.
They will have to enter the Video Gifts store, where they can then buy and watch the gifts animations for as long as they want.
When they choose one, they will choose a friend from their friends list and if they wish, they can write them a message.
Gift List
Don't Forget to Check Your Moshling Garden
Hope You're Feeling Better
Will You Be My Valentine?
You're Like Sunshine On a Rainy Day
Ad blocker interference detected!
Wikia is a free-to-use site that makes money from advertising. We have a modified experience for viewers using ad blockers

Wikia is not accessible if you've made further modifications. Remove the custom ad blocker rule(s) and the page will load as expected.