Zommers
Talk

0
881pages on
this wiki
"
Fresh air is suppose to be healthy, thats why I don't inhale!"
"
 

— An uncommon Zommer quote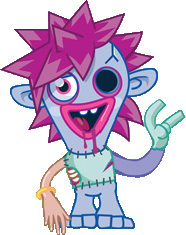 Zommers
are one of the six types of monster you can choose to adopt. They are fluent in speaking Zommeranian (they can also speak and sing in English) and they are the least commonly adopted monster, probably because of their scary appearance. When Zommers are adopted, they are mostly chosen by boys, and some tomboys. They sometimes speak English (E.g. 'It's Zommer Time!') but mainlt Zommeranian. Another reason why most people do not adopt Zommers is that they have all different parts stitched to them (Such as the ladie's arm) and drool dripping from their mouth, making them appear traditionally unnapealing. Zommers are more popular for boys, hence their gruesome appearance. Even though Zommers have a scary look, they are kind and love their owners very much (if their owners treat them well, of course).
Zommers are zombie-like-creatures with spikey hair and drool dripping from their mouth.

Zommers have very weakest health of any monster, so make sure not to leave them alone too long!
Zommers love redecorating their room once and a while, and they also enjoy shopping!
A very rare thing to see your Zommer do is take its eyeball out and put it close to you on your screen.
One of the most popular monster owners on the site, Timernator, has a Zommer.
When they are happy, they smile and do the rock fingers
When they are unhappy, they prefer you leave them alone.
When they level up, Rock and Roll music plays and they dance around! p.s they are lovley go to long leet to meet them.
The loudest Zommer is Riff Sawfinger from The Fizzbangs.
The freakest Zommer is Stitch, body is held together with drool and chewing gum.
A famous Zommer is Scare Grillis  who is a bonkers Zommer survival expert.
A Zommer has a song of his own (along with a Poppet) called Rock Like a Zommer! The genre of the song is Rock n' Roll..
In the Spanish version of Moshi Monsters, Elder Furi is called Elder Zommer.